Social media marketing and social sharing in particular can help to move potential customers move through the customer journey, all the way from first learning about your brand to actively advocating for it.
In this post, we're going to take a look at all five stages of the customer journey and how social media can impact each.
What Are the Stages of the Customer Journey?
When focused most heavily on sales, the customer's journey is sometimes referred to as "the digital sales funnel" or a "purchasing funnel." There are 5 stages of the customer's journey, which is the process of building a relationship with your brand that all customers will go through. These stages are:
Awareness:  where a customer first learns about your brand
Consideration: where a customer considers purchasing from you or competitors but is not yet ready to buy
Purchase: when the customer actually purchases
Loyalty: where your customers favor your brand over competitors
Advocacy: when your customers will refer friends and family to you
Unfortunately, a ton of businesses focus all of their energy on the first three stages of the customer journey, and feel that once the customer has purchased their awesome product, no extra work is needed on their part. This is a huge mistake, because the last two stages—loyalty and advocacy—will bring you your most high value customers who, in many cases, will actually send even more great business your way.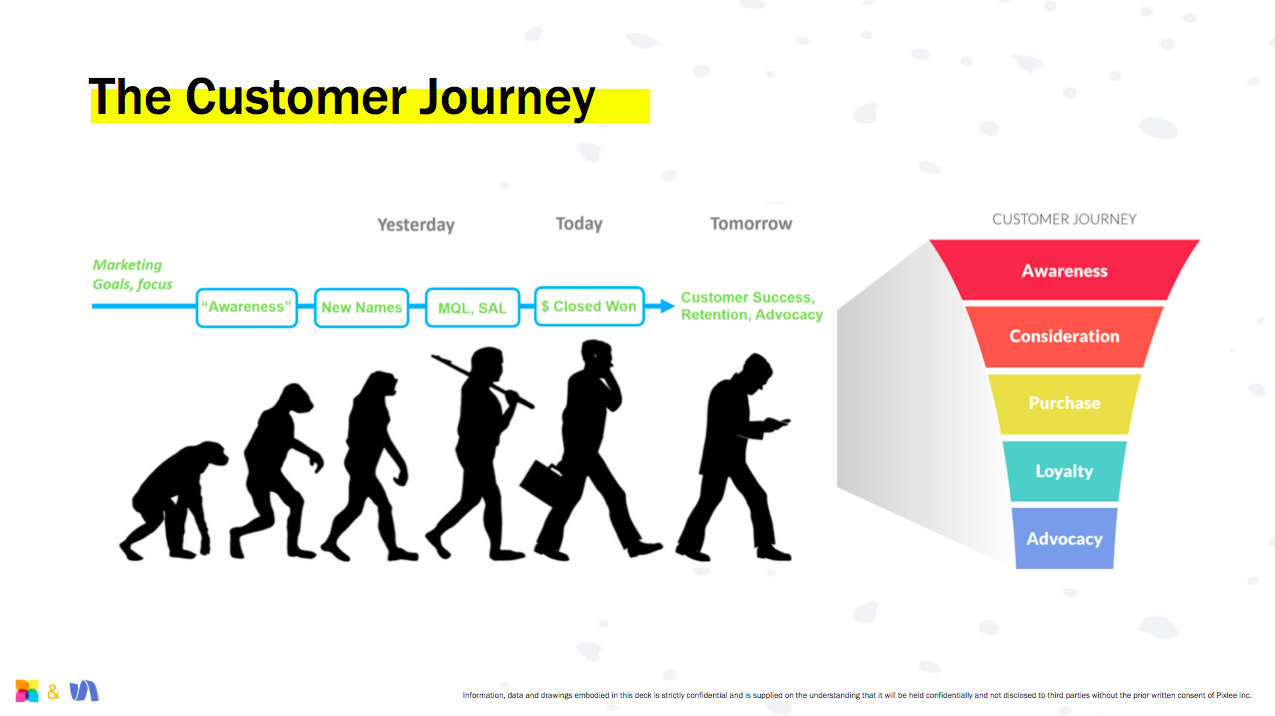 Marketers are responsible for more and more of the customer journey. 
When you're starting customer journey mapping for your business, you should make sure you take every stage into account, ensuring that your social media, user-generated content (or UGC for short), and social sharing work as solid touchpoints for each one.
Awareness
Social media is a fantastic tool to aid in brand awareness campaigns, connecting you to relevant users who have never heard of you yet. Using PPC campaigns, like Facebook Ads or Promoted Pins, can be extremely effective in exposing your brand to new members of your target audience. Once you've identified your target platforms (which are based on demographics), you can run social contests or campaigns to connect with these users and potentially get lead information.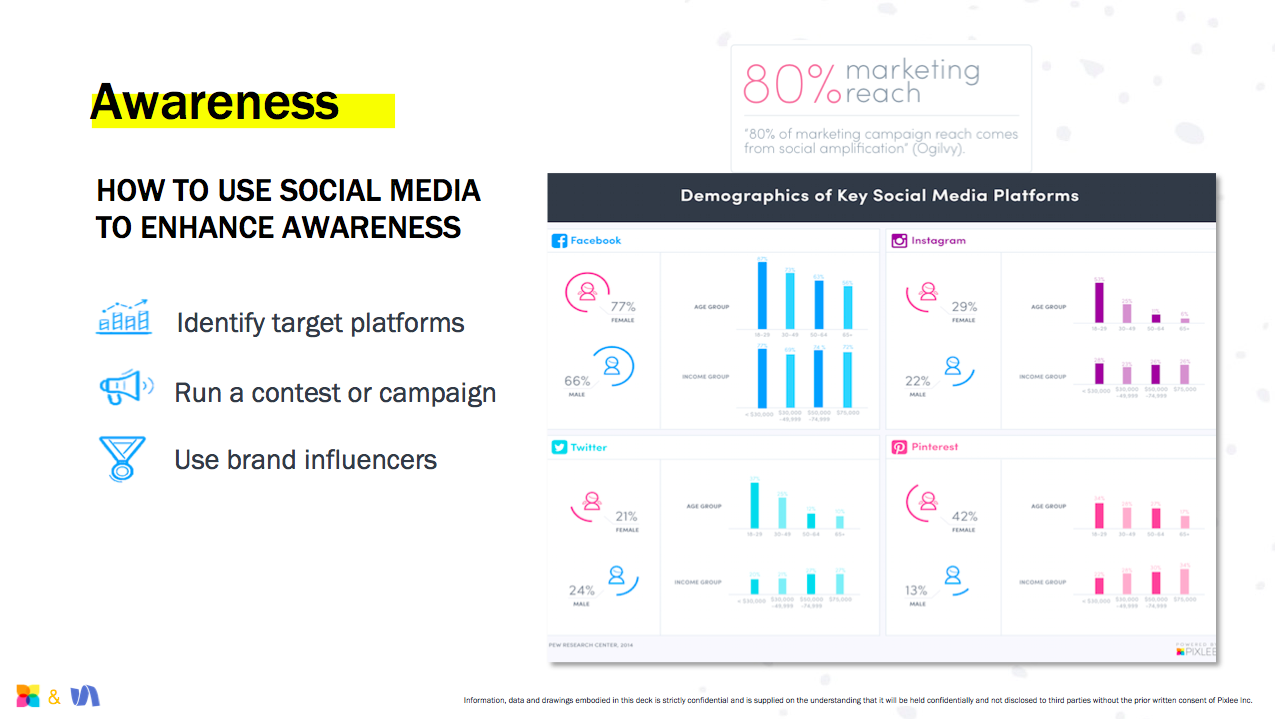 Social media ad campaigns can help you quickly connect with new users.
Interacting with social influencers—particularly micro-influencers—on social media can also help you increase reach and awareness.
Consideration
More users than ever before are doing research online before making a purchase, and an increasing number of these users are flocking to social media to do that research. They look for peer reviews and what customers have to say. A whopping 92% of online consumers trust content written by other users above all other forms of marketing, so social media and user-generated content is essential in winning over users in the consideration stage.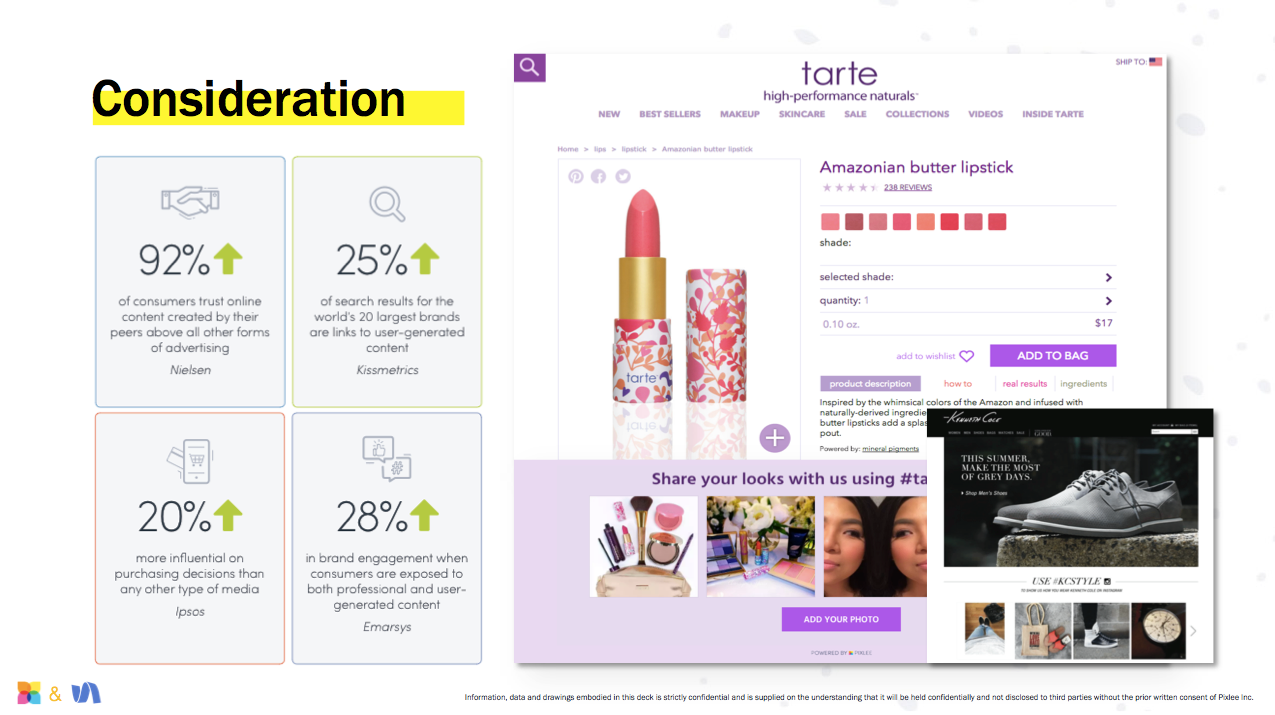 Focus on the value proposition of your products or services for users in this stage; if other customers are able to showcase value in reviews, even better!
This stage should focus on value proposition of your products and services, and adding UGC everywhere you can (including your site, with our social displays) is one of the best moves you can make to increase brand trust.
Purchase
If your customers are close to purchasing but not quite there, social media can help nudge them just enough to hit the "add to cart" button.
Many first-time customers, for example, can be won over by a sale or discount offer, and many will go to social media to look for announcements of upcoming sales or coupon codes. If an almost-customer sees a tweet from you about an upcoming sale and it has a few users responding with "what a great deal, can't wait" or "can't wait to buy this!" you probably just earned their business.
Using social media is also uniquely efficient at building social proof for your products. When you display real customer photos of your products endorsing your brand you are building brand trust.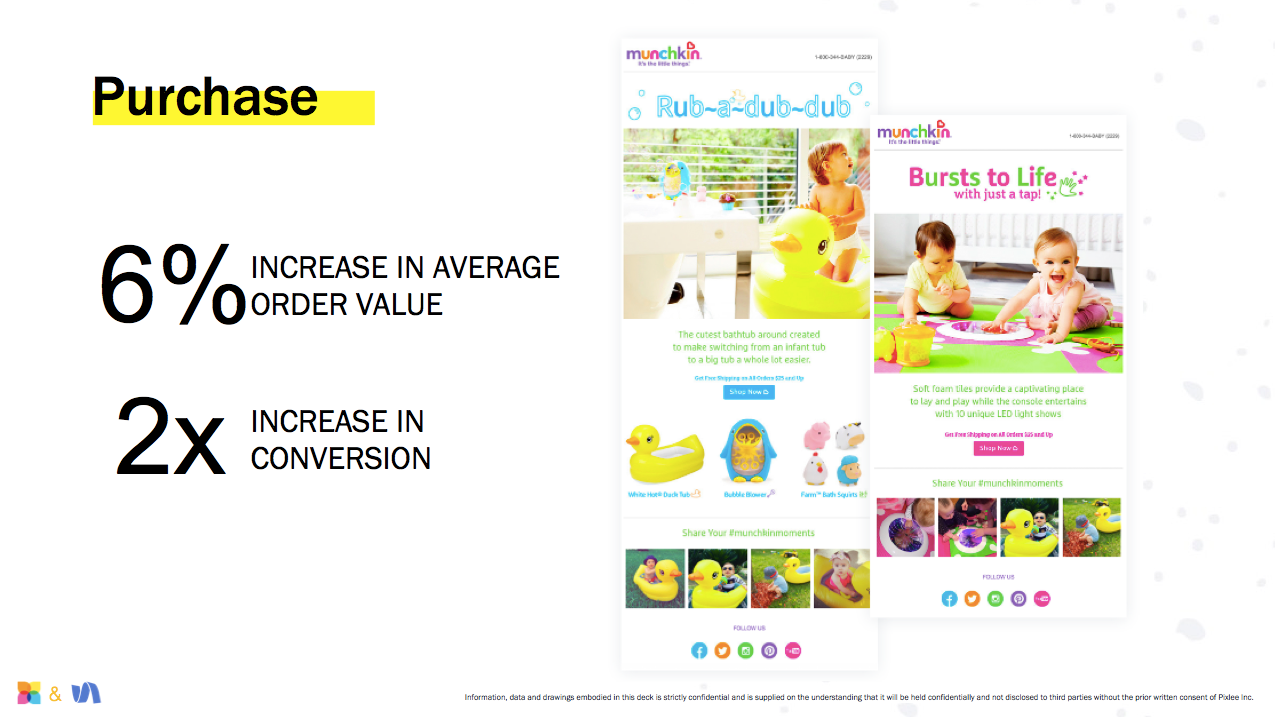 Displaying user-generated content on your website is proven to increase average order value by 6% and 2X conversion rate.


Loyalty
Unfortunately, a surprising number of brands stop focusing on the customer journey once their customer have reached the stage of purchase. Instead, you should be focusing on building an online community and a long-term relationship with your customers. Prioritizing customer experience management can help with this, ensuring that they maintain engaged with you and your brand.
Loyal customers will likely start interacting with you on social media, whether they're commenting on your fantastic customer service or a feature or service your business offers that they love. Responding to every comment, compliment, and complaint will help nurture loyalty.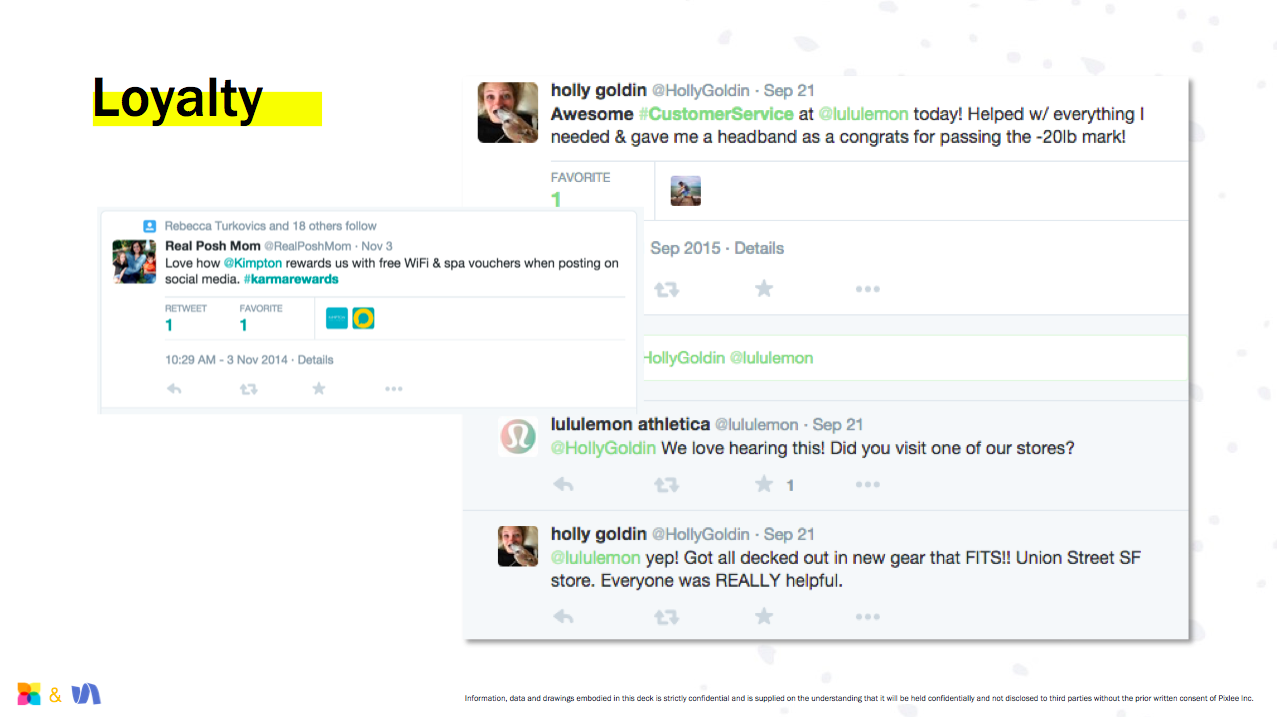 Interacting with all user posts and comments as much as possible can help foster loyalty.
Incorporate social sharing into any of your customer loyalty programs for maximum impact. Customer should be able to earn points or be offered an incentive from your business if they share or post on social about your business. This will forge more loyalty, and with expanded reach, these posts could help you usher plenty of new users into the awareness stage of the funnel.
Advocacy
While many brands may not prioritize loyalty, even more forget about advocacy. This is a missed opportunity, because your most loyal, raving fans will actively contribute to your business, send you referrals, and help you build an online community.
Social media allows brands to maintain close and frequent contact with customers. It's also easier than ever for users to become advocates; they can share your posts, leave you reviews, and upload UGC that will benefit your business in a matter of seconds.
Share the UGC that customers create (including reviews), and constantly post social updates reminding your customers how much you value them. Offering incentive programs to these customers to refer new users (which you can make fun through social contests) can help create advocates, too.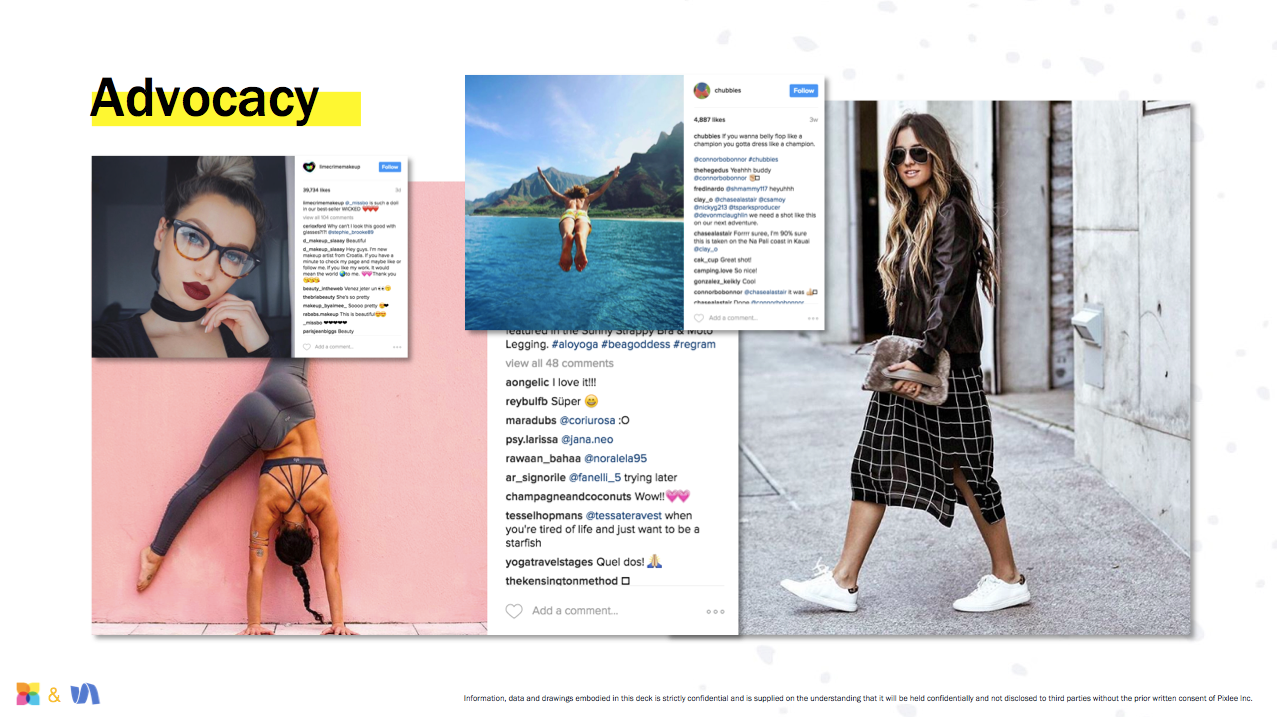 Final Thoughts
Social media, more than any other type of media, can be impactful in every stage of the customer journey without any other type of media. This makes it powerful, especially when combined with other types of marketing like email marketing or content marketing. Social sharing in particular is extremely impactful, and should be utilized at all stage of the customer journey for best results.